Curio Corner
Let me know if you have any suggestions for additions to this list. You can email me at b_minney@hotmail.com
A Reggie Minnie is referred to in Norman Mailer's novel Harlot's Ghost first published in Gt Britain 1991 by MICHAEL JOSEPH, London. The Penguin Group, 1991:p178 This is a novel about the American Central Intellegence Agency (CIA).

The narrator is recalling part of his early training days :- " One night at the Club, I ended up drinking with our boxing instructor, who had the odd name of Reggie Minnie,. He was only one of our teachers that we found impressive. The verdict of our training group had soon gone around: good men in the Agency were too valuable to use for teaching. We received the culls, Minnie, however, was special. He fought in a stand-up classic stance, and had been a Navy boxing champ during the war. He had also been married to an English girl who was killed in a car accident, a fact to mention because he was the driver. His sorrow was complete; it was as if he had been dipped into a tragic rue. This loss permeated every pore and organ cell, left him , indeed, a complete man, all of one piece, one whole tincture of loss. He spoke in a gentle voice and listened to every word that everyone said, as if words were as much of a comfort as warm clothing .............I complained about my ineptitude at defence as if it were a peculiar phenomenon, some hopeless relative to my body. He then made a remark I never forgot. 'You have to learn how to hit,' he said. 'It'll give you more of a sense of when the punch is coming at you.' This reference supplied by Glenys P. Brazell (Minney) Perth, Australia

Mr and Mrs Frank Minney appear as characters in the children's novel, 'The Winged Colt of Casa Mia' by Betsy Byars. The book was published in 1973 by The Bodley Head (UK). Ms Byars wrote that the inspiration for Mrs Minney came from her daughter's second grade teacher, Miss Minney. This was when she was living at Morgantown, West Virginia, and the school was Suncrest Elementary, sometime in the early 1960s. The book was turned into a tv three part special in the US. The role of Mrs Minney was played by Jane Withers, a former child star.

In Enid Blyton's short fairy story, 'The Rub-Away Flannel', Meanie the goblin rubbed away Mrs Minny's front door knocker.

Minie ball and Minie rifle get their names from Capt C Minie of France.

Minnie or Minny is a Scottish term for mother.

Moaning Minnie or Minny is an abbreviation of German 'minenwerfer', a trench mortar, or bomb discharged by it.

And from the Glamorgan Police at War archives; "...air raid duties were a crucial part of police duty. The police were responsible for sounding the air raid siren, known as a "moaning minny" because of its distinctive whining sound, to warn of impending attack. Any police not on duty would report for duty immediately, ensuring that the Blackout was being implemented, evacuating dangerous areas and guiding the general public towards their nearest air raid shelter.

Minney Row, a row of cottages built in 1663 in Great Barford, Bedfordshire and demolished in 1966.The official name was Willoughby Cottages. Minneys occupied these six cottages from around 1900 on. At one stage between the world wars, all six were occupied by Minneys.

No.1 = George Minney
No.2 = Mr Len and Mrs Rose (nee Minney) Jarvis
No.3 = Mr and Mrs John Minney
No.4 = Mr Alf and Mrs Florence (nee Minney) Facey
No.5 and No.6 = Mr and Mrs Ben Minney.

The cottages were once the parish workhouse and the stigma stayed with them. Some locals also called the cottages 'Workhouse Row'. additional information supplied by Peter Minney
Click on thumbnail picture to view full size photo taken just before the cottages were demolished
&nbsp
In Penzance, Cornwall there is a Bed and Breakfast accommodation called The Minney. It is believed that the name is a corruption of Mennaye, the part of Penzance where the house is situated. The Royal Cornwall Museum said that Mennaye is derived from either the Cornish word Maen meaning stone or more likely Menehay meaning sanctuary. The owner of The Minney is a Jill Hamer and can be contacted on j.hamer@zoom.co.uk should anyone wish to book a stay at The Minney, 31 Alexandra Gardens, Penzance.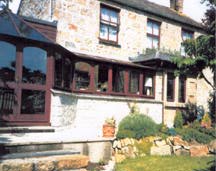 Click on thumbnail picture to view full size photo of The Minney.
From Websters New International Dictionary; Minne (pronounced Minney) means love, Minnie means remembrance, love and a nickname for Mary, Minnie-bush is a low shrub (Menziesia pilosa) of Eastern North America with greenish-purple flowers, Minny is a Minnow fish, and Minny Bass is a small mouthed black bass
Georgina, known as Minney Seymour (1798 - 1848) is sometimes alleged to be the daughter of George, Prince of Wales and Mrs Maria Fitzherbert.
Minney is found in an Hebrew Bible dictionary. The word is a preposition; from, out of, on account since, etc.
According to a Chicago University Web site, the name Minney occurs in Iceland. The list of names was compiled from various lists of Icelandic students and faculty, but all are used by real Icelandic people. Only first and middle names were extracted. Minney appears on the female list.
Minny Pops was a four piece pop group from Holland in the late 1970s and early 1980s.
Southern Minny Stars also known as Minny Stars also known as Austin Minny Stars, is the name of USA baseball team that plays in the Northwoods League, Austin, Minnesota.
The University of California has a list of oil wells. In this list under Los Angeles County Wells there is a reference to Township = '4s -9w-4', Well or lease = Minney, Well number = 1. The University thought that this indicated the Well was named after the land owner.
From the Internet Movie Database are details of a 1997 film called The Maker starring Jonathan Rhys Meyers as Josh Minnell.