Memorials
The majority of these memorial details are from the records of The Commonwealth War Graves Commission. Interesting private memorials are also included.
(Link to The Commonwealth War Graves Commission Web Site)
&nbsp
Private A Minnie. Cape Corps S A Forces
Died 24th October 1942
Private C/300418. El Alamein War Cemetery, Egypt. Grave reference; XI B 11.
Driver Arthur Joseph Minney. Royal Field Artillery
Died 15th April 1917

Driver 174331. Chatby Memorial, Egypt. The unburied dead from six vessels are named on this memorial situated on the east side of Alexandria. The hired transport "Cameronia" was torpedoed and sunk on 15th April 1917, 150 miles East from Malta. She was carrying reinforcements for Mesopotamia and 127 of the soldiers on board are named.
His name also appears on the Great Barford Rolls of Honour (supplied courtesy of www.roll-of-honour.com)
Sergeant Alexander Richard Minney. RAF Volunteer Reserve
Died 27th September 1942
Sergeant 938925. Son of Ellen J Taylor of Candleriggs, Glasgow. Kettering (London Road) Cemetery, Northants. Grave reference: Row 00. Grave 17.
Corporal B Minney. Northants Regiment
Died 4th November 1918
Corporal 49037, 6th Bn. Preux-Au-Bois Communal Cemetery, Nord, France. Grave reference; A 40. The village of Preux Au Bois was captured on 4th November 1918 after a severe struggle by units of the 18th Division and Tanks. The cemetery contains the graves of 65 soldiers from the UK, one of whom is unidentified and almost all belonged to the 18th Division. The graves of 150 German soldiers have been removed.
Charles F Minney
Died 21st January 1919
Millbury Veteran Memorial, Minney Square, W.Main St and Elmwood St, Millbury, Massachusetts, USA.
Charles F Minney was born in Millbury, Massachusetts, on 24th August 1892 to Arthur and Mary Minney. He had a brother named Louis and sisters named Sophie, Mary Eva and Mary Loretta. He attended and graduated from Millbury High School.
Minney enlisted in the army on 25th May 1917. Although he lived through the actual war, he died of pneumonia on 21st January 1919 in Brest, France. This was the eve of his departure home to Millbury. His body was the first soldier's body to be brought back and laid in state in the Millbury Town Hall. The Charles F Minney Post V.F.W is dedicated in his name.
Private Edgar George Robin Minney. ROAC
Died 29th February 1944
Private 14428158, 52 Vehicle Repair Depot. Son of Harold Charles and Ivy Joyce Minney of Yardley Hastings, East of Church. Yardley Hastings (St Andrew) Churchyard, Northants. Details from wall plaque at St Andrews Church, Yardley Hastings - "For Freedoms Cause, 1939 - 1945, Alfred Picton, Hubert Partridge, Robin Minney"
Elmore Minney
Date of death not known
Civil War Memorial at Independence Cemetery, Saranac Hollow, New York. The marker reads "Saranac Independence Cemetery County's only Civil War Memorial erected by town citizens 1888. 419 men served. Proportionately more than any other town. 5 from 16th NY aided in capturing Booth."
"To the memory of the brave defenders of the Union 1861 - 1865. Erected by the soldiers and citizens of Saranac Valley May 30 1888."
The memorial has four sides each identifying a major Civil war Battle. The side panel "Gettysburgh" has listed forty who died of disease, one of those listed is Elmore Minney.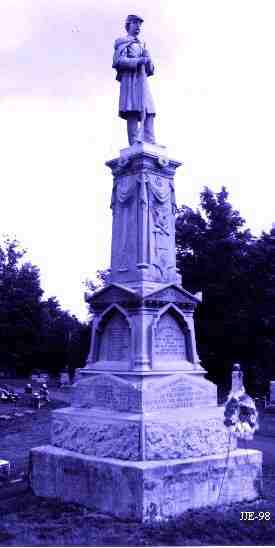 Click on the thumbnail to view the memorial full size
(Link to the Independence Cemetery Memorial)
Private Fred Minney. Northants Regiment
Died 28th February 1915
Private 16949, 6th Btn. Son of John and Sarah Minney. Denton (St Margaret) New Churchyard, Northants. Grave reference; E13 (In South-West part).
Private F Minney. Royal Welsh Fusiliers
Died 21st March 1918
Private 202366 4th Btn. Grevillers British Cemetery, Pas de Calais, France. Grave reference; XII B 10. Grevillers was captured by the enemy on 25th March 1918. Nearly 2,000 war casualties commemorated.
F Minney
Died 1914 - 1918
War memorial, Cardington, Bedfordshire.
Gunner H Minnie. Australian Field Artillery
Died 12th May 1917
Gunner 3873, 11th Bde. H A C Cemetery, Ecoust-St Mein, Pas de Calais, France. Grave reference; III H 29. There are nearly 2,000 1914-18 war casualties commemorated on this site. Over half are unidentified, special memorials are erected to 17 soldiers from the UK and 14 from Australia.
Private Hans Minnie. Cape Corps S A Forces
Died 5th June 1943
Private C/322480V. Age 28, son of John and Rose Minnie of Port Elizabeth, Cape Province. Pietermaritzburg (Mountain Rise) Cemetery, Kwazulu Natal, South Africa. Grave reference; Mil Block B, Grave 29.
Private J Minney
Roll of Honour entry, not deceased. 1914 - 1919
Little Paxton, Huntingdonshire - Roll of Honour to those from Little Paxton who fought and died in the Great War, 1914-1919. The memorial is affixed to the east wall of the church and contains a list of men who died followed by a list of men who served. Compiled and copyright © Martin Edwards 2001.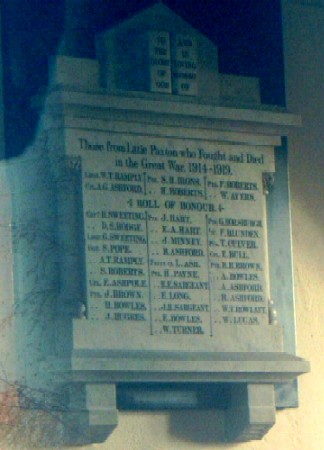 Driver Jack Minney. Royal Corps of Signals
Died 23rd August 1947
Driver 14193177, 1st Div Sigs. Age 19 son of William George and Ellen Minney of Hunslett, Leeds, Yorks. Ramleh War Cemetery, Israel. Over 5,000 war casualties commemorated from both world wars.
Sapper James Minnie. South African Engineer Corps
Died 11th March 1943
Sapper 190751. Age 32, son of James P Minnie and Kathrine Minnie, husband of M A Minnie, of Port Elizabeth. Port Elizabeth (South End) Cemetery, Eastern Cape, South Africa. Grave reference; H Extension, Grave 9N.
Cook John James Minnie. Royal Australian Navy
Died 19th September 1942
Cook (S) 24131, HMAS Gerard. Age 23, son of George Harold and Dorothy Olive Minnie, of Albert Park. Melbourne General Cemetery, Victoria, Australia. Grave reference; C of E plot. Sec BBA Grave 241.
Corporal John Thomas Minney. RAF Volunteer Res
Died 10th September 1945
Corporal 1542505. Age 24, son of James and May Minney, husband of Betty, of Hucknall. Hucknall Cemetery, Nottinghamshire. Grave reference; Sec. D Grave 745.
Private J W Minnie. Transvaal Scottish S A Forces
Died 21st July 1944
Private 79257 3rd Bn. Prague War Cemetery, Czech Republic. Grave reference I D 4. Graves were brought into this cemetery from 73 small cemeteries scattered all over the Czech Republic. Many of those buried here died as Prisoners of War.
Kenneth William John Minney
Died 9th September 1942
Age 11 months, son of Gnr Charles William Minney RA and E A Minney of 6 Church Street, Salcombe. Injured at Salcombe, died same day at South Hams Cottage Hospital, Kingsbridge.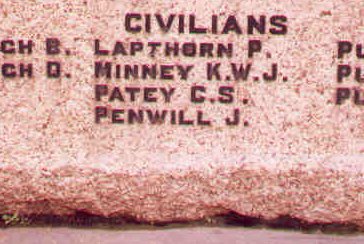 Click on thumbnail picture to view full size memorial
Kenneth died as a result of the second air raid to hit Salcombe during the war. Bombs fell in the Church Street area, demolishing three houses on the southern side of the street, by and below the arch, and severely damaging houses opposite, and in Buckley. The Church and houses in The Island were also damaged. (Additional info from Salcombe's Wartime Casualties by David F Murch 1993).
It is believed Gunner Minney came from Great Barford, Beds. There was an attempt made to trace Gunner Minney or his family in 1994 by Biggleswade British Legion, without success.
Trooper M P Minnie. South African Horse
Died 11th September 1916
Trooper 6466, 1st South African Horse. Age 28, son of Mr P.J.P. and Mrs C.E.G. Minnie of 94 St John St, Bloemfontein, Orange Free State, South Africa. Dar Es Salaam War Cemetery, Tanzania. Grave reference; 7 F 10. During the 1914-18 War Dar es Salaam was the capital of German East Africa, and here on 8th August 1914 occurred the first recorded British action of the First World War, when HMS Astraea shelled the German wireless station.
Private Reginald Percy Minney. Gordon Highlanders
Died 10th February 1945
Private 14724372 5/7th Bn. Age 19, son of Percy Herbert and Elsie Maud Minney of Great Barford, Beds. Milsbeek War Cemetery, Netherlands. Grave reference; II C 15. The casualties here date, with a few exceptions, from February and March 1945, from the days of the advance into Germany.
His name also appears on the Great Barford Rolls of Honour (supplied courtesy of www.roll-of-honour.com)
Solomon Rueben Minny
Died 27 November 1922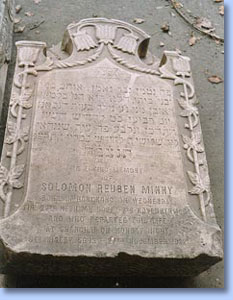 Description from The Lost Shanghai Jewish Graves. Solomon Minny was born in HongKong in the early years of the city. Leaves and flowers decorating the sides and the top. The stone is now located in the Buddhist cemetery in the west of Shanghai. This place used to be International cemetery until the cultural revolution of China. In 1958, all the four Jewish cemeteries in Shanghai moved to this international cemetery in the west of the city. During the cultural revolution all the western graves in this place where destroyed. The headstones located in this place at the moment were placed there by the local authorities by request of the Israeli consulate of Shanghai after we showed them many lost Jewish headstones that can be found in the villages west of the city. Solomon Minny died in Shanghai, 1927 at the age of 56.
Warrant Officer W D Minnie. South African Corps MP
Died 8th February 1945
Warrant Officer Class 1, South African Corps of Military Police. Age 50, son of Willem D and Susara S Minnie, husband of Nellie Minnie, of Bulawayo, Southern Rhodesia. Dordrecht Cemetery, Eastern Cape, South Africa.
Private William Minney 50th (Queens Own)Regiment
Died December 1846
Reported missing presumed dead amongst others following recent Battles on the Sutlej, Sikh Wars, India. Memorial at Canterbury Cathedral erected by the Officers of the 50th Queens Own Regiment to the Memory of the Officers and Men who fell under the colours of the Regiment during the campaign on the Sutlej, in 1845 and 1846 in the actions of Moodkee, Ferozeshuhur, Aliwal and Sobraon.
Photo page of inside Canterbury Cathedral
(Link to Canterbury Cathedral Memorial)
Private William Minney. Sherwood Foresters
Died 4th March 1917
Private 70712, 1st Bn, Sherwood Foresters (Notts & Derby Regt). Thiepval Memorial, Somme, France. Grave reference; Pier and Face 10 C 10 D and 11A.
Gunner William Minnie. South African Artillery
Died 2nd December 1941
Gunner 73395, 1 bty, 1AA Regt, South African Artillery. Age 18, son of Mr and Mrs W F Minnie of Green Point, Cape Town, South Africa. Halfaya Sollum War Cemetery, Egypt. Grave reference; 24 A 7. The cemetery is adjacent to Halfaya Pass, the scene of heavy fighting in 1941 and 1942.