Mr Minney of London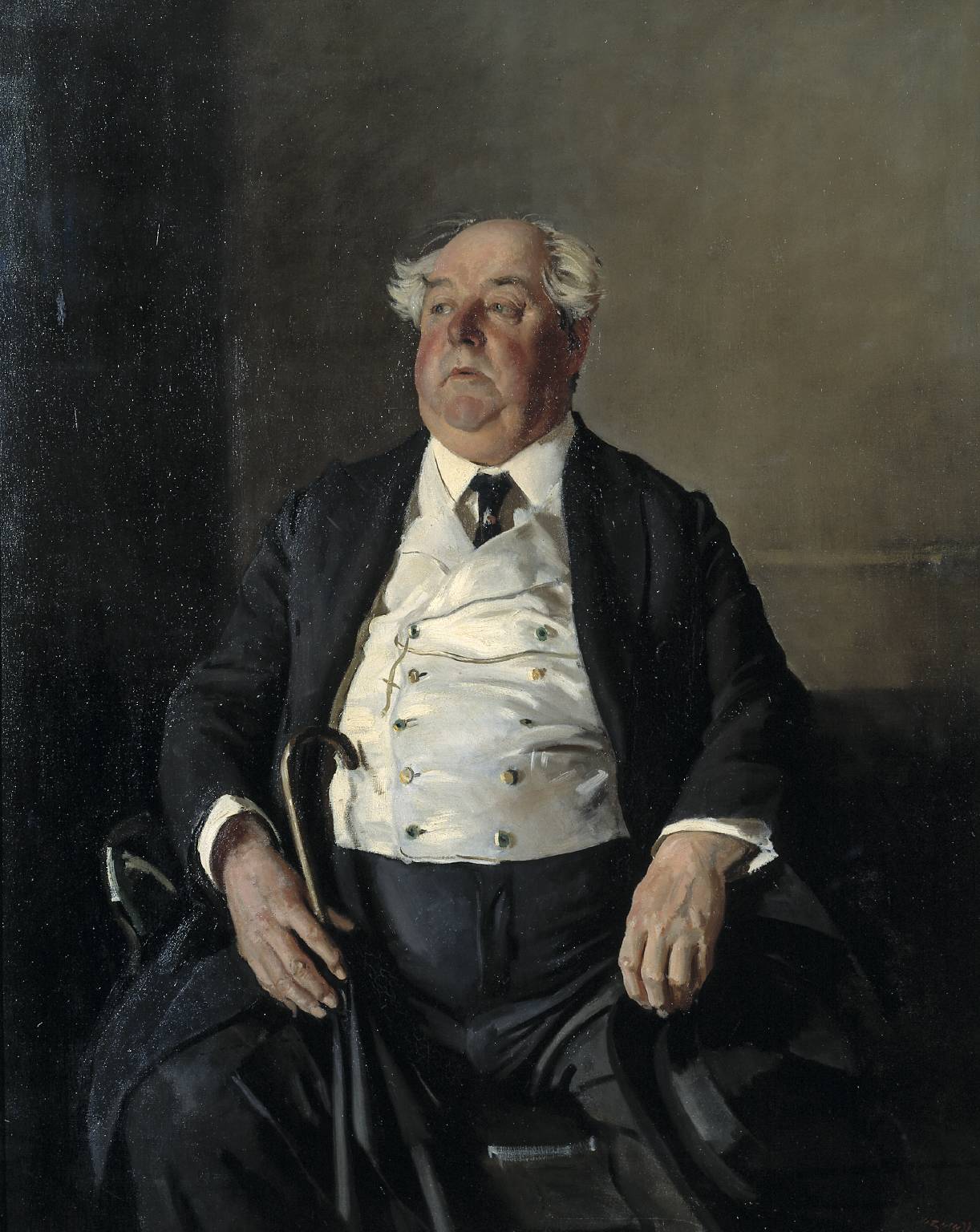 click on thumbnail picture to view full size portrait
&nbsp
From The National Portrait Gallery
Card Index on Sitters
Mr Minney a painting in oils 50" x 40" by W W Russell ARA, purchased from the artist by Charles Moore and presented to the Tate in 1920. It was exhibited in 1920 at RA and acclaimed as the picture of the year. The portrait brought the artist into great prominence and led to much speculation concerning the sitter, who was an artists model and was said to have been formerly on the stage.
The painting is produced in 'Tate Gallery Illustrations', 1928 and in James Laver's 'Portraits in Oil and Vinegar', 1925.
Tate Gallery
Web Page details
Sir Walter Russell 1867-1949
Mr Minney 1920
1276 x 1022 mm
Presented by Charles H. Moore through the National Art Collections Fund 1920
N03569
type: painting
work identifier: N03569
Link to Tate Gallery details of Mr Minney
&nbsp
The Times 17th July 1920
"Mr Minney" for The Tate Gallery
"Recent gifts to the Tate Gallery made through the National Art Collections Fund include the portrait "Mr. Minney", by W.W. Russell, R.A., lately purchased by a member of the fund and presented through it to the nation, and also a water colour drawing, "Saintes," by Clarkson Stanfield, presented by Mr. J. Kerr-Lawson."
&nbsp
The Society for Theatre Research
Letter From Hon. Sec. Judith Hann 1990
A letter from the Society for Theatre Research, c/o The Theatre Museum, 1e Tavistock Street, London WC2E 7PA.
"The committee of the STR was most interested in the picture and we made various attempts to locate the sitter in reference works on stage performers, such as Wearing's 'London Theatre Record' for the 1890's.
Alas we have drawn a blank, and if you find any more information we will be happy to investigate further. Part of the problem is that we are dealing here with a man of mature but unspecified age whose stage career might have been either recent or decades ago. He could have been a juvenile phenomenon, a chorus boy, a circus rider, a romantic lead long before 1920, or he might have played heavy fathers or sung comic songs much more recently. He may have had a stage name, too, or had a career in the provinces in an under-documented location.
If you can pick up any further clues from the press coverage of the picture please pass them on. For example, any indication of whether Mr Minney was a 'straight' actor or a music hall artiste would be useful. So far the response to the picture is the only source we have; it is possible that if it aroused a lot of public interest Mr Minney was interviewed, photographed or written up in a chatty way for some non-specialist journal, there used to be much more interest in the Academy than there is now.
Have you tried 'Punch', for instance? Or the 'Tatler'? Or the 'London Illustrated News'?"
&nbsp
The Art of Walter W Russell by M C Salaman
Extract from 'The Studio' LXXX111 1922 page 86
"With a sterling reputation long established among his fellow-painters, Mr Russell's election in 1920 to the associateship of the Royal Academy seemed but a belated official recognition of an artist whose modernity of outlook was concerned always with artistic vitality , whether this was derived from principles that had appealed to him most persuasively in the practise of Whistler and the French Impressionists, or of Constable, or in any other masterly influences through which he had developed his individuality.
In the exhibitions of the New English Art Club, of which he has been a member since 1895, his development had long been watched with interest, but only in 1920 did the public that flocks to Burlington House for its summer feast of pictures suddenly become aware of a new painter of individual vision when confronted with the portrait of an elderly, bald-headed man of great bulk emphasised by a white waistcoat; Mr Minney.
The name was quickly in everybody's mouth, and always with a chuckle of amusement. I remember at the private view being asked laughingly many times, "Have you seen Mr Minney, by Russell the new Associate?"
People began wondering who and what Mr Minney was. Surely, it was thought, he must be "somebody in particular," somebody one ought to know, or at least know about, or he would hardly bulk so prominently in a place of honour in Gallery No.III.
Mr Minney was in fact, what in the 'eighties would have been called "the picture of the year".
And so the popular fancy, which had eluded the fine artistic accomplishment of a long series of beautiful and interesting pictures by the modest painter, was attracted impishly by this bald man who dominated the Royal Academy of 1920 with his white waistcoated "ventrirotundity" - to borrow Max Beerbohm's word.
Yet there was nothing comic about the picture - a brilliant piece of portraiture which now hangs worthily in the Tate Gallery. Nor, when "Max" describes Hokusai's drawing of Ho-Tei, the monstrously fat Japanese god of increase, does he wish us to imagine anything comic about that picture; but, distinguishing between true fatness and mere stoutness, he calls Prince Bismark to witness, that no man can be trusted " in statecraft until he can show a stomach." If this be so, the Mr Minney's career should certainly have been a splendid success.
Look, then at Mr Russell's picture and let the painter's psychological insight suggest some clue to the causes of Mr Minney ending his life as an artists model rather than a Cabinet Minister. He had seen life, one has been told; he had trodden the stage, not very much in the limelight perhaps; he had gone through with things - yet, as Mr Russell shows so understandingly and with a fine sympathy, Mr Minney's personal outlook retained a certain dignity which might be called philosophic, or it might be the mere expansive geniality of bulk, the cheery tolerance of the fat man - but perhaps, that flabby hand feebly holding the unfolded umbrella suggests that though he may have gone through with things he never got a grip of them....."
&nbsp
If any one can identify Mr Minney then please let me know by emailing me at b_minney@hotmail.com . Myself and a few others would be very grateful!