Rubeigh James Minney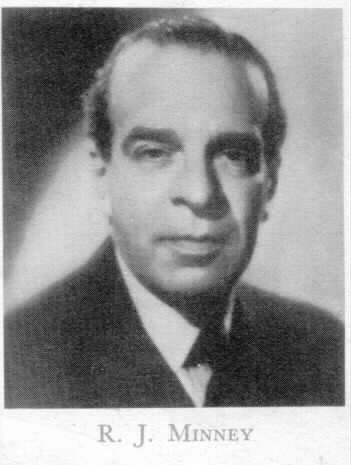 I have included here extracts from various publications to show what an extraordinary career R J Minney had. I have also added the numerous entries over the years from The Times. The photograph above came from the flyleaf of his novel "The Governor's Lady" published in 1951
Picture Gallery
Click on link to view picture
From "The Governor's Lady" 1951
Flyleaf Notes
"The author of The Governor's Lady is a novelist, playwright, and film producer whose work is known to millions throughout the world.
He was educated at King's College in the University of London, where he studied History, has lectured at a number of universities, and has broadcast in many countries.
His extensive travels include a journey to Tibet on horseback across the Himalayas. He was attached to the staff of the Duke of Connaught for the opening of India's first Parliament, and was the first to fly across India in a plane that arrived in a packing case. He has been to Malaya, most of the countries of Europe, and the United States of America, where he worked in a film studio in Hollywood.
As a journalist he was Editor of Everybody's, The Sunday Referee and The Strand Magazine, to which some of the most famous writers of our time contributed. The films he produced include The Wicked Lady, Madonna of the Seven Moons, The Magic Bow and the most artistic of them all, A Place of One's Own, for which Rex Whistler designed the settings. Among the many well-known stars who appeared in his pictures are Ronald Coleman, Loretta Young, James Mason and Margaret Lockwood.
Of Minney's plays, Clive of India (written with W P Lipscomb) ran for over a year in London and was later filmed. He is also the author of Gentle Ceaser, which he wrote in collaboration with Sir Osbert Sitwell. His last novel was Bring Out the Drum."
From "Puffin Asquith" 1973
Flyleaf Notes
R J Minney is an accomplished novelist, biographer, playwright and film producer. Educated at King's College, London, where he studied History, he has lectured in a number of universities and has broadcast in many countries.
His extensive travels include a journey to Tibet on horseback across the Himalayas. He was the first to fly across India in a plane that arrived in a packing case, and has been to Japan, China, Hong Kong, Vietnam, Cambodia, Thailand, Malaya, East Africa, Morocco, Egypt, the Middle East, Russia, South America, Turkey and most of the countries in Europe. He spent some time in the USA working in a film studio in Hollywood and later wrote scripts and produced films for the Rank Organisation in London.
As a journalist he was editor of Everybody's, Sunday Referee and Strand Magazine. The films he produced include The Wicked Lady, Madonna of the Seven Moons,Terence Rattigan's The Final Test and A Place of One's Own, for which Rex Whistler designed the sets. Minney is also the author of Gentle Caesar, about Tsar Nicholas II, which he wrote in collaberation with Sir Osbert Sitwell, and Clive of India, a biography, play and film, in which Ronald Coleman and Loretta Young starred. Winston Churchill praised the play in a long article in the London Daily Mail.
His more than thirty books include a study of Charlie Chaplin's life work entitled Chaplin - The Immortal Tramp and Carve Her Name With Pride, the work of Violette Szabo who was posthumously awarded the George Cross, also filmed.
Who Was Who in the Theatre
1912-1976
Critic and author. Born Calcutta 29th Aug 1895. Educated Kings College, London. Married Edith Anne Murielle Fox. Has had much journalistic experience in England and in India, where he was on the editorial staff of "The Pioneer", Allahabad, and "The Englishman", Calcutta, he has written dramatic criticism for the "Daily Chronicle", "Sunday News" and "Everybody's Weekly", of which he was also the editor.
Managing editor of the "Sunday Referee" 1935-1939, author (with W P Lipscomb) of the play "Clive of India", 1933 which was also made into a film, "They had his number" (with Juliet Rhys-Williams) 1942, "The Red Horizon" (with Osbert Sitwell) 1943, is the author of several books on Indian life, his book "Shiva" or the "Future of India" published 1929, was banned; issued a biography of "Clive" 1931, also the author of "Distant Drums" 1935, "Hollywood by Starlight" 1935, "Governor General" the love story of Warren Hastings 1935,"How Vainly Men" 1940, "A Woman of France" 1945, has also written and Produced films including; "Madonna of the Seven Moons", A Place of Ones Own", "The Wicked Lady" etc.
Club - Savage. Address - Lawford House, Manningtree, Essex. Tel; Manningtree 35.
Who Was Who
1971-1980
Novelist, Biographer, Playwright, Film Producer. Born 29th Aug 1895. Son of late J R Minney. Married 1st Edith Fox (marriage dissolved), one son, one daughter. Married 2nd Hetty neé Bolsom. Educated Kings College, London.
Editorial staff "Pioneer" Allahabad, "Englishman" Calcutta. Represented "Times" in Calcutta, special reporter with the Duke of Connaught to India 1920, "Daily Express", assistant editor.of "Sunday News" London, editor of "Everybody's Weekly" 1925 -1935, director of Everybody's Publication Ltd to 1935, director of Chapman Hall Ltd 1934 to 1936, editor "Sunday Referee" 1935 to 1939, editor "The Era", editor "The War Weekly" 1939 to 1941, editor "The Strand" magazine 1941 to 1942.
In films since 1942, Hon. President of London School of Economics Film Society, 1948 to 1949. Member of Executive and General Council Association of Cine Tecnicians 1953 to 1956. Vice Chairman ACT Films Ltd 1951 to 1968 (chairman 1968 on).
Party candidate (Labour) for Southend East 1950, for Bexley 1955. Went to Peking to speak at George Bernard Shaws Centenary celebrations in July 1956.
Publications:
Novels - Maki 1921, The Road to Delhi 1923, Distant Drums 1935, Governor General 1935, How Vainly Men 1940, A Woman of France 1945, Nothing to Lose 1946 (filmed as Time Gentlemen, Please, 1952), Bring Out the Drum 1950, The Governor's Lady 1951 (with Margot Duke), Anne of the Sealed Knot 1972.
Biographies etc - Clive of India 1931, Shiva, Midst Himalayan Mists, Excursions in Ink, Across India by Air, The Journalist, Night Life of Calcutta, India Marches Past 1933, Hollywood By Starlight 1935, Talking of Films 1947, Chaplin, The Immortal Tramp 1954, Viscount Southwood 1954, Carve Her Name With Pride 1956 (filmed 1957), Next Stop Peking 1957, Viscount Addison, Leader of the Lords 1958, The Private Papers of Hore-Belisha 1960, Fanny and the Regent of Siam 1962, No 10 Downing Street 1963, The Film Maker and His World 1964, The Edwardian Age 1964, I shall Fear No Evil 1966, The Two Pillars of Charing Cross 1967, The Bogus Image of Bernard Shaw 1969, The Tower of London 1970, Hampton Court 1972, Rasputin 1972, Puffin Asquith 1973, Lola Montez 1976.
Plays- "Clive of India" (with W P Lipscomb) first produced by the village players of Gt Hucklow in Derybs 1933, filmed by 20th Century Fox 1934. "They had his Number" (with Lady Rhys-Williams) first produced at Hippodrome, Bolton 1942. "Gentle Caesar" (with Sir Osbert Sitwell) first produced Alexandra Theatre, Birmingham 1943. "The Voice of the People" first produced Southend 1950.
Films (as producer) - Madonna of the Seven Moons, Osbert Sitwell's "A Place of One's Own", "The Wicked Lady", "The Magic Bow", "The Idol of Paris", Terence Rattigan's "The Final Test" etc.
Address: Hook House, Cowsley Wood, Wadhurst, Sussex
Died 5th Jan 1979
Daily Telegraph
6th January 1979
R J Minney Dies at 83
"Rubeigh James Minney, producer of films such as "The Wicked Lady" and a prolific writer, died at Ticehurst, Sussex, yesterday aged 83.
One of his early biographies, "Clive of India", published in 1931, became a best seller. Another, which bought him perhaps greater fame was "Carve Her Name With Pride", the story of Violet Szabo."
Obituary Daily Telegraph, 9th January 1979.
MINNEY
On January 5th 1979 R J Minney, author, playwright and film producer, of Hook House, Cousley Wood, Wadhurst aged 83, passed peacefully away. Beloved husband of Hetty, father of Primrose and Robin, stepfather of Penelope Murray Chisholm. Private funeral, no flowers.
Daily Telegraph, 6th April 1979.
IN MEMORIAM - R J Minney
A memorial service for Mr Rubeigh James Minney was held at St James's, Piccadilly, yesterday. The Rev. William Baddeley officiated. Sir Harold Wilson, MP, read the lesson. Miss Virginia McKenna read a poem from the film "Carve Her Name With Pride". Miss Dulcie Gray gave the address and Miss Muriel Pavlow said the prayer of St Francis.
Among those present were:
Mrs Minney (widow), Mr and Mrs Robin Minney (son and daughter-in-law), Mr and Mrs David Chisholm (son-in-law and daughter), Miss Primrose Minney (daughter), Mr Thomas Minney, Mr Hugo Minney and Mr Richard Minney (grandsons), Mr I R Wallace (brother-in-law) and other members of the family.
Lady Georgina Coleridge, Sir John Rogers MP, Sir Geoffrey Harmsworth, Lady Harmsworth Blunt, Lady Wilson, Lady Balcon, Baroness Ludmila von Falz-Fein, Mr Alan Wykes representing the Savage Club, Miss Phyllis Calvert, Mr Derek Bond, Mr Peter Noble, Mr Harry McKenzie-Johnstone, Mr John Young, Mr and Mrs J P Connalon, Miss Julie Harris, Miss Adza Vincent, Mr W Travers, the Rev. John Beckwith and many other friends.
Internet Movie Database
Dear Octopus, 1943 (Writer)….aka The Randolph Family, 1943

Madonna of The Seven Moons 1944 (Producer)

A Place of One's Own, 1944(Producer)

The Wicked Lady, 1945 (Producer)

Time Gentlemen Please! 1952 (Writer, novel)

The Final Test, 1953 (Producer)

Carve Her Name With Pride 1958 (Writer, book)
From The New York Times
R.J. Minney
Producer/Book Author/Screenwriter/Play Author :
1958 Carve Her Name with Pride (Book Author)

1953 Time Gentlemen Please? (Book Author)

1953 The Final Test (Producer)

1948 Idol of Paris (Producer)

1947 The Magic Bow (Producer)

1945 Madonna of the Seven Moons (Producer)

1945 A Place of One's Own (Producer)

1945 The Wicked Lady (Producer)

1943 The Randolph Family (Screenwriter)

1935 Clive of India (Screenwriter / Play Author)
Extracts from The Times
Times Literary Supplement 30th September 1920
R J Minney; An appeal for copies of 'John Bull' of 1821.
Times Literary Supplement 14th October 1920
R J Minney; 'Midst Himalayan Mists' noticed.
Times Literary Supplement 22nd September 1921
R J Minney; 'Maki' noticed.
Times Literary Supplement 6th October 1921
R J Minney; 'Across India By Air' noticed.
The Times 12th March 1929
R J Minney; Parliament. House of Commons, Monday March 11. "The Future of India". Lieut-Com. Kenworthy (Hull. Central, Lab.) asked the Under-Secretary of State for India why a book called "Shiva, or the future of India" by Mr R J Minney, formerly joint editor of the Englishman, of Calcutta, had been debarred entry into India by the Government, in view of the fact that Miss Mayo's book "Mother of India" was allowed to circulate freely throughout the Peninsula. There then follows an exchange with Earl Winterton, Under-Secretary of State for India. Briefly, the allegation was that Mr Minney's book was deemed to be offensive to the people of India. Interesting quote from Earl Winterton 'It would be improper to read to the House some of the passages which exceed in grossness and coarseness anything published in this country for a long time.'
The Times 1st May 1931
R J Minney; Shorter Notices - Biography, History And Ghosts. A re-reading of a life of Lord Clive is a useful corrective to opinionativeness at this period in the history of India and England. Mr R J Minney, who knows India well, is at least timely in his biography, CLIVE (Jarrolds, 16s net). One of the most dramatic life stories in the history of this Empire loses just a trifle in the telling because Mr Minney appears to feel that the facts are not enough in themselves; they must be heightened by histrionic presentation. Still, the melodramatic attitude apart, he does not misuse his material. The author rejects the theory that Clive died by his own hand: he believes that his death was due to an overdose of opium taken to alleviate the pains of his illness. But that is a small point now: Clive had suffered enough in coarse calumny and ingratitude to undermine the soundest mentality. Mr Minney has written a reliable guide to understanding of a great man and a great problem.
The Times 2nd & 3rd November 1933(precis)
R J Minney; High Court of Justice. Kings Bench Division. "Clive of India" Dispute over right to produce play. Shurey v Lipscomb and another. Before Mr Justice Branson. The hearing was begun of an action in which Miss Dinah Shurey of Shaftesbury Avenue, W., claims against Mr W P Lipscomb of Adelphi Terrace W.C and Mr R J Minney of 'Little Walcott' Bishops Avenue, London N., specific performance of a contract alleged to have been made on August 14 1933 and recorded in a memorandum of August 15 1933 under which she claims to have the right to produce in London a play called 'Clive of India', based on a historical novel of which Mr R J Minney is the author. By the defence it is denied that Mr Lipscomb signed the memorandum or that any agreement as alleged was ever made. The memorandum was later destroyed by Mr Lipscomb.
Miss Shurey is a film producer and entertainment organiser. Mr Minney was the author of what was believed to be an excellent historical romance of the time of Clive in India. He and Mr Lipscomb were collaborating in a play based on the book but could not get enough financial backing to put it on in London. This was in 1931. They were forced to take it to the provinces. In 1933 following good reviews Miss Shurey decide to put the play on in London using her own money. Following the examination of Miss Shurey in the witness box she got Mr Lipscomb to sign a memorandum allowing her to produce the play but he was saying that due to tiredness he did not read it fully and in any case his signature was not witnessed.
Later on in evidence it appears that problems arose because Miss Shurey did not disclose that she had backing from the India Defence League - although in evidence she denied this but later admitted to being in an India Syndicate. Lipscomb said that he did not wish to get involved with any propaganda. India at this time was a delicate political problem.
Mr Minney's Evidence: Mr Minney, author and journalist, said that Miss Shurey first came to him in connection with the play on August 10. When she came to his office on August 15 she produced a document, said that she was very sorry to trouble him at that hour (about 6pm) but said that Mr Lipscomb had asked her to see him (the witness) and bring the document for him to sign. He at first refused to sign it, saying that he would retain it for examination. On being further pressed however he did sign the document reflecting that he had left matters in the hands of Mr Lipscomb and that it was not perhaps fair to hold things up for him. He definitely told Miss Shurey that he had signed on the strict understanding that his signature should not be legally binding unless and until Mr Lipscomb examined the document, approved it and signed it. Miss Shurey replied that was obvious.
Mr Minney said that Miss Shurey in a telephone conversation repeatedly contradicted herself. When he said that he did not like the idea of the play being used for the purpose of political propaganda Miss Shurey said "All right, if you won't act as go-between Mr Lipscomb and me I shall get Mr Noel Coward to write a play for me. I shall soon get a play much better than yours".
Mr Justice Branson found for the defendants, Lipscomb and Minney stating that he did like Shurey's evidence and that he believed Lipscomb and Minney's version of events.
The above is a short precis of several columns of newsprint spread over two days.
The Times 26th January 1934
R J Minney; Entertainment. Wyndhams Theatre. 'Clive of India' by W P Lipscomb & R J Minney. Produced by Campbell Gullum. A complimentary review - Mr Lipscomb and Mr Minney have performed their task with admirable discretion. The retrospects are easy, the gaps in time gracefully passed over. The scenes are long enough to have substance but never an instant longer. The adventurous power of Clive is the play's unfailing impulse. Above all, the piece is neither dry nor weakly sentimental. What gives the evening its special pleasure and what earned the warmth of applause that greeted the final curtain, is that the play is that very uncommon thing -a good play about a man of action..when the tale is well told and worth telling, is in itself a refreshment.
Clive is a brilliant piece of work, combining faultlessly intellect with swagger (which is hard) and a dashing charm with a persuasive and fanatical determination (which on the stage is even harder). Here at any rate is a man with an authentic streak of ostentation who might have won Plassey and reformed a corrupt civil government - and within the simple outlines of the theatre, is hardest of all.
The Times 12th February 1935 - New Novels
Distant Drums By R J Minney (Chapman & Hall, 7s 6d)
Nicholas Perrybooth, the central figure of the story, begins his life as a London clerk. His sweetheart jilts him at the instigation of her mother; he drifts to India, where gradually he becomes conscious of his own strength. He is no sentimentalist; he can battle with the toughest in the commercial arena. But unread and uneducated he has somehow grasped the truth that no man can securely build his own fortunes on the suffering of others: all who work for him have shared his burden and shall therefore share his profits. His methods provoke the indignant remonstrance of his competitors: "damned fool - messing things up for us - raising the entire level."
After 40 years of struggle and success Nicholas's fortune flies away; but his life work, for what it was worth, remains; the good deed does not die. Judy, who jilted Nicholas, in her own way too "follows the gleam." After a short and unhappy married life she is left a widow: she finds happiness as a Salvation Army worker in India. Only when she and Nicholas are alike old, grey and broken do they meet again. Yet both are content.
A pendant to the life story of Nicholas is a description of the Eurasian world of Calcutta; to that of Judy a description of the aborigines among whom she works. Both descriptions are admirable.
The Times 24th January 1947
Mr R J Minney, producer of the British film The Wicked Lady announced in Liverpool last night that he had resigned from the Arthur Rank organization.
The Times 4th July 1947
Letter to the Editor of The Times
British Films
A long letter attempting to promote the British film industry against the growth of American imports. Stated that currently, films were taking as long as 13 weeks to complete. R J Minney, Lawford House, Manningtree, Essex.
The Times 15th July 1947
Letter to the Editor of The Times
A reply to a Lord Grantley who challenged some of R Minney's figures......"A Place of Ones Own, based on Sir Osbert Sitwell's story, for which the sets were designed by Rex Whistler, occupied the studio floor for a bare six weeks....." R J Minney, Lawford House, Manningtree, Essex.
The Times 13th November 1947
Letter to the Editor of The Times
British Films
Another long letter detailing his views on why the British Film industry is languishing behind the French and Italians. R J Minney, Lawford House, Manningtree, Essex.
The Times 1st April 1948
Press Commission Evidence
Minutes on evidence given before the Royal Commission on the Press on November 27, 1947, by Mr R J Minney and Mr Kingsley Martin (Editor, The New Statesmen and Nation) have now been published (Cmd. 7369 Stationary Office 1s.)
The Times 17th July 1948
To The Editor of The Times
The Film Quota
Sir - What has apparently been overlooked by Mr Allport, European manager of the Motion Picture Association of America, and by others in the recent correspondence in your columns, is that all films made here by American companies (and they have already begun production) will automatically come into the 45 per cent quota. R J Minney, Lawford House, Manningtree, Essex.
The Times 6th September 1951
R J Minney;- "Nothing To Lose" is to be filmed.
The Times 12th July 1951
Lord Holden - A Vivid Personality
Mr R J Minney writes: - Lord Holden was a far greater and more vivid personality in the circle of his friends than to the public, who only knew of him. We are all greatly impoverished by his sudden death. He was a figure out of the past, not an eccentric, though he admired eccentrics, but an elegant blend of the late Victorian and the Edwardian. His manners were as finely polished as his mind. He had a sound knowledge of the literature, history, architecture, furniture and clothes of his own country, of France, Germany and Italy, but his scholarly mind and admirable taste never made him pedantic. He was amusing, impishly witty, a perfect host and guest. He gave his time unsparingly to help the under-priviliged and distressed in Britain and elsewhere, and there was nothing he was not prepared to undertake to serve a friend.
The Times 28th November 1957
Europeans in China
R J Minney: Next Stop Peking 192pp. Newnes 25s
Mr Minney does not pretend to know. He was invited to China to take part in the Shaw centenary celebrations and stayed to do the regular tour and be impressed. This is another delegate's view among the many we have lately had from China - easily readable, superficial.
Collections held in various Institutions
University of Sussex Library
BENN W.LEVY PAPERS:SxMs 37
List of Contents - LABOUR PARTY
Films Sub-Committee, Trade and Industry Group
Working Party Papers

Pamplets, etc. 1 file printed papers, contains:

Minney, R.J. Talking of films, 1947. pp.82
Washington University Library
Olin Library

Gentle Ceasar, a play in three acts, by R J Minney and Osbert Sitwell, 1942 ref: PR6025 177 G4
The Bogus Image of Bernard Shaw, 1969 ref: PR5366 M5
Fanny and the Regent of Siam, 1962 ref: DS582 P7 M5
Hampton Court, 1972 ref: DA690 H2 M55
No. 10 Downing Street. A House in History, 1963 ref: DA687 D7 M5
Puffin Asquith, 1973 ref: PN1998.3 A84 M56
Rasputin, 1972 ref: DK254 R3 M56
Recollections of George Bernard Shaw, 1969 ref:PR5366 M53
Shiva, or the Future of India, 1929 ref:DS437 M5
The Library Catalog of Georgetown University
Carve Her Name With Pride, 1956
Clive of India, 1957
The Edwardian Age, 1964
Hampton Court, 1972
The Private Papers of Hore-Belisha, 1960
Rasputin, 1973
Recollections of George Bernard Shaw, 1969
The Tower of London, 1970
Viscount Addison, Leader of the Lords, 1958
Library of Congress
National Union Catalog of Manuscript Collections Index

Location - Tate Gallery

Postcard from R J Minney to Ivor Lambe, 1941

Location - Bodleian Library, Oxford

Letter from R J Minney to Viscountess Addison, 1951

Location - BBC Written Archives Centre, Reading

Correspondence between R J Minney and members of staff of the BBC, 1947 - 1962

Location - University of Reading, Library

2 letters from R J Minney to R L Megroz, 1933
Men Only and R J Minney
I recently aquired a book published in the UK titled "A Stag Party with Men Only". It was printed by Newnes in 1955. The editor of the book (and also Men Only) is one R J Minney. Men Only was known as a mildly pornographic magazine in the 1960s, much in the same tradition as Playboy. Whether it was in 1955 I have no idea. However, the list of contributers to this book is formidable; Wilfred Pickles, Alan Whicker, Bernard Miles, William Douglas Home, amongst others in this 174 page book. There are one or two risque drawings although the book resembles a latter day Punch magazine than anything else.
Firstly, I find it fascinating that no reference can be found to R J Minney being the editor of Men Only in any of the bibliographic listings, why? I would like to know why he took on (for him) such an unusual post and how long was he the editor?
Secondly, isn't it a strange coincidence that whilst R J was editor of Men Only in the UK, Bruce Minney was painting models in the USA version of Men Only at the same time?
A collector recently came across a letter from George Newnes Ltd., dated 13th.August 1953, setting down the terms of his employment as editor of a 'new publication as discussed', namely the magazine Men Only. The contract was for two years, and the salary was an incredible £4,000 per annum, plus 2% commission on net sales. This was at least four times what a top executive earned at that time.
Gainsbourough Pictures 1924 -1951
Information taken from www.screenonline.org.uk
From 1942, a crucial figure in the Gainsborough production team was R.J. Minney, a successful novelist and former Hollywood scriptwriter. Minney and producer Ted Black inaugurated a series of costume melodramas at Gainsborough which dominated the domestic market from 1942 to 1946. These were based on recent popular books by female novelists, foregrounding gypsies, wanton women and lustful aristocrats. They were made into films which mined a rich seam in British popular culture and were visually extravagant and morally ambivalent: films such as The Man in Grey (d. Leslie Arliss, 1943), Madonna of the Seven Moons (d. Arthur Crabtree, 1944), The Wicked Lady (d. Leslie Arliss, 1945) and Caravan (d. Arthur Crabtree, 1946). Black and Minney encouraged the careers of a new breed of British stars - Margaret Lockwood, James Mason, Stewart Granger, Patricia Roc - who were democratic in their manner, and the female side of the British audience took them to their hearts. Critics and male viewers excoriated the Gainsborough costume melodramas, but for female fans the historical pleasures and sexual mayhem performed an important function.
From 1942 to 1946, Black and Minney also specialised in two other film genres: comedy and modern-dress melodramas. With the latter, the same themes as the costume melos were rehearsed. Love Story (d. Leslie Arliss, 1944), and They Were Sisters (d. Arthur Crabtree, 1945) dealt with desire, anger and sartorial envy. The comedies were more heterogeneous and lacked the box-office instincts of the melodramas. Tommy Handley's Time Flies (d. Walter Forde, 1944) was intellectually inventive but a box-office failure, and the Arthur Askey films such as Bees in Paradise (d. Val Guest, 1944) performed unevenly and were often misogynist.
After 1946, Rank's henchmen began to intervene more directly in production, and one by one the disillusioned Gainsborough specialists left. The Ostrers resigned, Black went to MGM, Minney left film production and Rank wished to appoint a successor who would continue their popular melodrama trajectory.
House Sale: The Estate of the late RJ Minney. Thursday 21 October 2004
Taken from the auction catalogue of Dreweatt Neate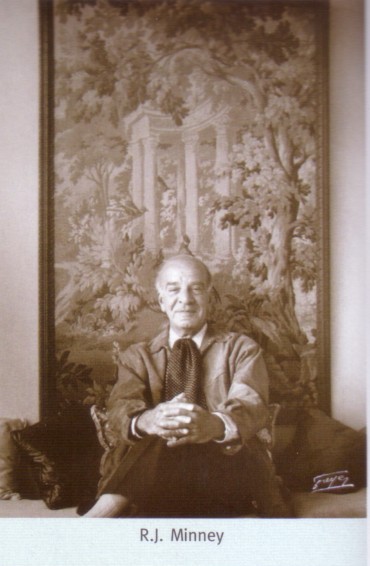 R J Minney (1895-1979)
Journalist, Writer, Playwright & Film Producer
Rubeigh James "RJ" Minney (1895-1979), a kindly, knowledgeable and experienced author, playwright and film producer, who started his career as a journalist, editing for ten years the enormously successful Everybody's Weekly'. At various times he was editor of Sunday Referee, The Era, The War and Strand Magazine. After the Sunday Referee, RJ joined Gainsborough Films, for whom he then produced several films including the classic period drama The Wicked Lady (1945) with a cast that included Margaret Lockwood, James Mason, Patricia Roc, Michael Rennie and Felix Aylmer.
While at Gainsborough he wrote both the book and play 'Clive of India', which ran for over a year in London and was later filmed. The Royal family unexpectedly arrived for the opening night of the play. On the same night RJ took a call from Daryl Zanuk, the legendary 1930's impresario and film-maker, asking RJ to call at Claridges. In Zanuk's suite the next day Zanuk invited RJ to Hollywood, RJ declined as he was due to leave for Russia to work on a biography on Rasputin, to which Zanuk reputedly responded; "Now Mr Minney sit down a minute, we haven't talked about money yet." The next day RJ left for Hollywood.
In Hollywood he produced many films, including; 'Madonna of the Seven Moons', 'The Magic Bow', and 'A Place of One's Own'. While in Hollywood RJ became friends with Charlie Chaplin and his family and later wrote a biography of Chaplin called 'Chaplin, The Immortal Tramp'. He also wrote 'Gentle Caesar', a biography of Tsar Nicholas II, and 'Carve Her Name With Pride' about Violette Szabo, who was posthumously awarded the George Cross, and many other biographies.
At RJ Minney's memorial service in 1979, Sir Harold Wilson read the lesson, Virginia McKenna read a poem from his book 'Carve Her Name With Pride', and Dulcie Gray gave the address.
Hook House was designed and built by Robert Hawken. Mr Hawken was known to enjoy a drink, and after a night in the pub in 1945 he fired an automatic pistol in the dining room in the general direction of his wife Betty – the bullett remains embedded in the panelling today.
Hook House was compulsory purchased in 1971 from only it's second owners for £17,000 after the construction of the adjoining reservoir, it was let to Mr and Mrs Minney on a 32 year lease. Hook House is now likely to be lost beneath the water with plans to raise water levels at Bewl reservoir to supply future developments in Hastings.
The contents of the house have been consigned by RJ's widow Hetty, his devoted companion for 35 years.
James Braxton
R J Minney - UK General Election Result 26 May 1955
Taken from the Political Science Resource Website
Bexley Result
Conservative hold:
ERG Heath Conservative 28,610 54.27%
RJ Minney Labour 24,111 45.73%
Electorate: 63,863; Turnout: 82.55%; Majority: 4,499 (8.53%)
What is fascinating about this is that not only was this an extremely high turn out by the electorate and that this was a safe Conservative seat but R J Minney came close to defeating a certain Edward Heath MP! As you may know, Edward Heath went on to become Prime Minister in 1970.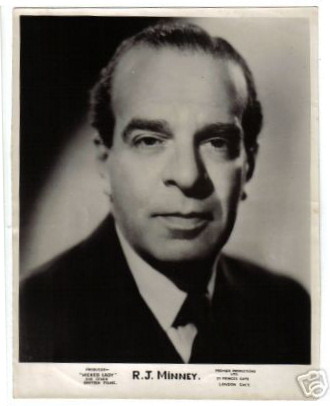 Photo seen on ebay, January 2007

Typed on rear of photo;

R J Minney
The release of the "Wicked Lady" in 1946 proved conclusively to the world that the British film industry could produce pictures at an economical cost which would gross as much as any film made in Hollywood. Box office receipts for this film have already beaten all records, taking over half a million pounds and the film is now being screened in 9,000 American cinemas.
R.J. Minney, who produced the "Wicked Lady" following his previous successes "A Place of One's Own" and "The Magic Bow", has joined Maurice Ostrer's new independent film producing company PREMIER PRODUCTIONS and goes on the floor with his first film for the new company in July. Title: "Queen of Love". Minney has chosen Michael Rennie for the male lead.
Letters to editor up for auction
A collection of letters to a Kent writer from correspondents including Charlie Chaplin, Rudyard Kipling and Sylvia Pankhurst is being auctioned. They wrote to the late RH Minney when he was editor of Everybody's Weekly in the 1930s. The letters were kept at his home, Hook House, at Bewl Water. The property, on the Kent-Sussex border, is now for sale and the letters are part of an auction of its contents. Tunbridge Wells auctioneer Dreweatt Neate expects them to fetch £5,000.
Suffragette Syliva Pankhurst's letter tells Mr Minney that she is enclosing an article for publication on war pensions, which she hopes will "make people think". The inventor of television, John Logie Baird, wrote asking if Mr Minney could help a young relative enter journalism.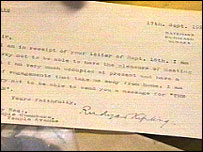 A letter from Rudyard Kipling, who lived near Burwash in East Sussex is headed with the information that the nearest telegraph is at Burwash and the railway station is Etchingham.
From BBC Thursday, 21 October, 2004
The War Weekly - Editor R J Minney

The War Weekly was published in Britain from October 1939 to August 1941. Its editor was R.J. Minney and it was published by Newnes. The first 75 issues cost 3d. Due to increasing paper shortages, which finally halted its production, issues 76 to 85 had a reduced number of pages, were only issued fortnightly and the cost went up to 4d.
Some pages have been scanned here
The Gasparinis—and their collection of 100+ Syd letters to R. J. Minney
From the Sydney Chaplin blog of researcher Lisa K. Stein, Ph.D., Assistant Professor of English, Ohio University Zanesville, 1425 Newark Road, Zanesville, OH 43701
A private collector there has kindly offered up his collection of 100 Syd letters to R. J. Minney for my research use. Hopefully, that will be a fruitful trip and I will be able to report on it in my next blog. Part of the reason I decided to take the time and expense to go to Milan is because I kind of knew about these letters. A tantalizing few of them exist as copies in the Charlie Chaplin archive.
Syd had more than a rational fear of trusting other people--ANY other people--but I knew that of the one or two folks he might trust, British journalist and author R. J. Minney was one of those people.
Unfortunately for Syd, I don't think Minney's affection was motivated by much more than the desire to get close enough to Charlie to write his 1954 book, Chaplin: The Immortal Tramp, but perhaps that's unfair. God knows, after reading these letters, Minney paid dearly for that book, because Syd put him through the ringer. I can say now, after reading the letters that Minney was Syd's titular confidante--perhaps his only such--during the very trying years 1929-39, in which Syd tried so hard to clear his name of the British International Pictures and Molly Wright scandals and return to film--all unsuccessfully. The Gasparini collection of letters gave me a blow by blow of this time period, answering many questions long unanswered.
To be continued...